The Essential Information Eco System
2 min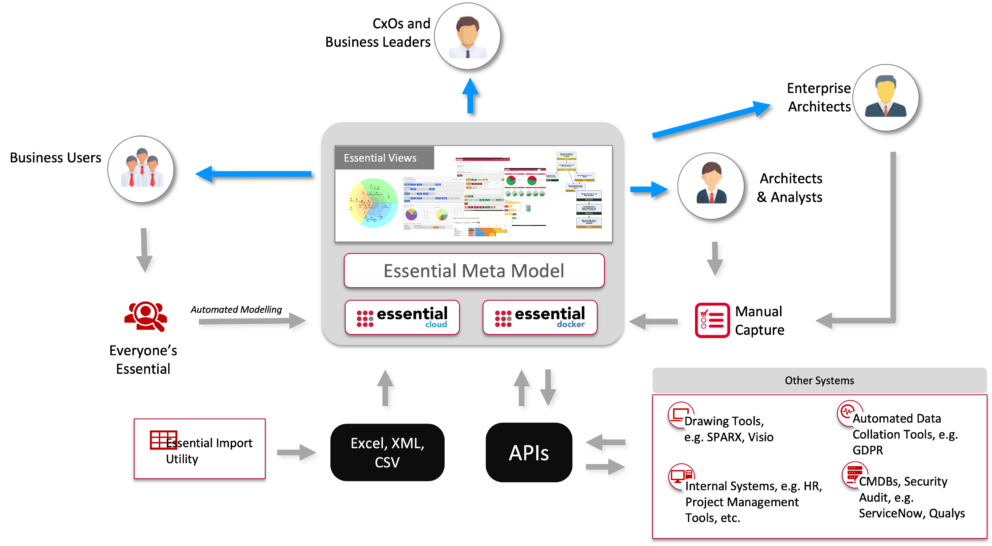 The Essential Enterprise Architecture tool eco-system comprises the meta-model, and tools for loading data into that meta-model.  You can populate the model in a variety of ways:
Using the Everyone's Essential Editors – easy to use, zero-training editors that enable the wider business to populate the repository (Note this is Cloud/Docker Only)
Via the Import Utility, which allows import of data from Excel spreadsheets.  We can provide Launchpad or users can create their own import specifications
Via the APIs, which is recommended when other tools master data (load from other systems and enrich in Essential).  Cloud/Docker have a range of REST APIs, Open Source has a simple API mechanism
Via the Data Capture, this is via Protege for Open Source and via the web Data Capture in Cloud/Docker
These eco-system of tools allow you to populate the data for your enterprise architecture, which is then leveraged in the Essential Viewer for presenting back the data to help your decision making.  The Essential Viewer has around 140 out of the box views.
Updated 3 November 2023