Business Capability to Project Tree
4 min
How to get the Business Capability to Projects Tree working using business capabilities, application services, strategic plans and associated projects.
Provides a graphical view of the projects that are impacting a given Business Capability.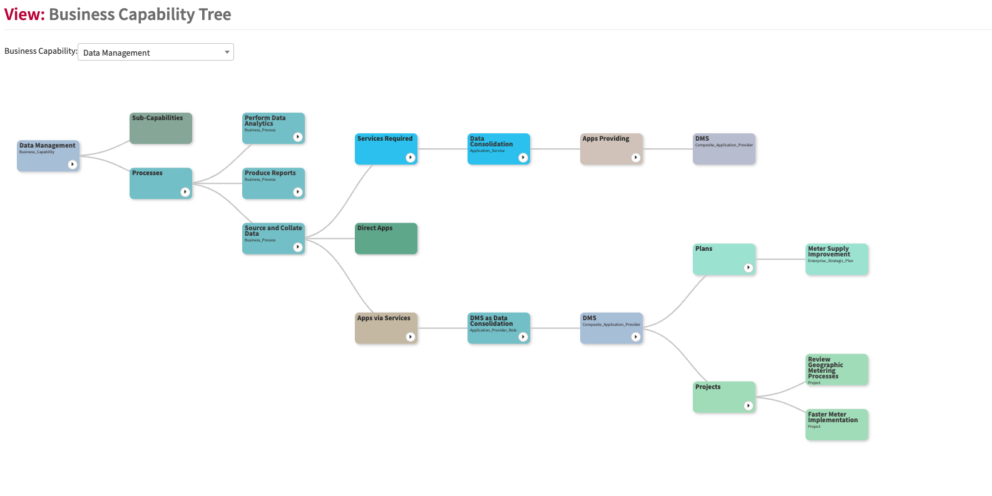 What
The tree allows you to have a visualisation of your business capabilities and the projects which are being implemented in those areas
Usage
The tree allows you to have an insight into your business capabilities, the supporting business process, applications and the service they offer as well as any strategic plans and implementing projects associated.
Data Required
The model below shows which class elements need to be captured for the view display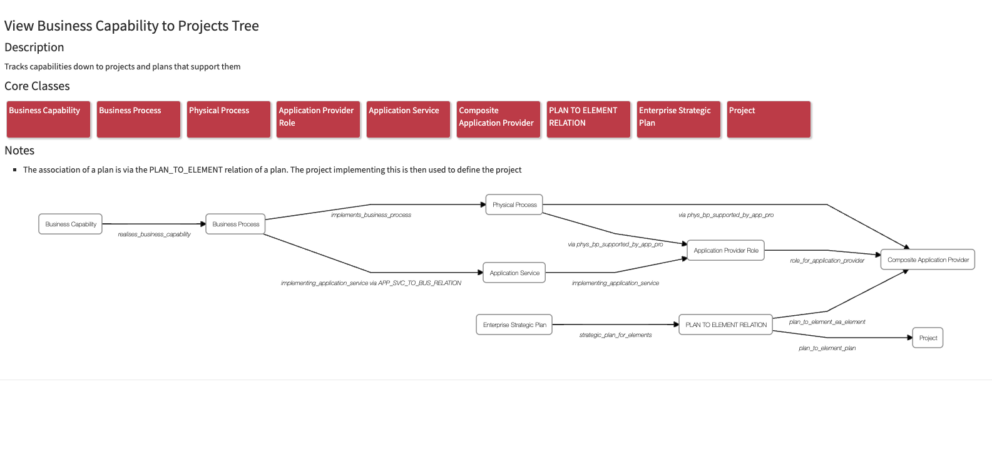 Data Capture
Navigate to Business Capability Class, create a new/select existing business capability. In the Realises business capability slot add/create a business process which falls the business capability.
In the Business Process Class, do the following:-
In the slot Performed By Organisations create/add the physical process which implements the logical business process.
In the Supporting Application Services, create/add the application service which supports the business process, via this slot you also define the Application Provider Role and supported Business Process relationship of the application which is providing the service. Within the Application Provider to Business Relationship class add/create the Composite Application Provider.
Navigate to Strategy Management/Strategic Plan/**Enterprise Strategic Plan Class under EA Support, create/select a strategic plan. In the Strategic Plan For Elements slot, you will link the Composite Application Provider you previously created or add a Business Process and define the type of change action it is via the Change Action Slot. Ensure that the Strategic Plan slot is pre-populated with the strategic plan you previously created, if not select and add it. Also link project in the **Supported By Change Activities** slot .
View Set-up
If the report is not enabled then go to EA Support > Essential Viewer > Report and find Core: Business Capability to Projects Tree and tick Enabled to ensure you that the Business Capability to Projects Tree is displayed in the Essential Viewer.
---
Updated 31 October 2023