Business Objective Summary
3 min
The Business Objective Summary provides a summary of the key relationships of a Business Objective.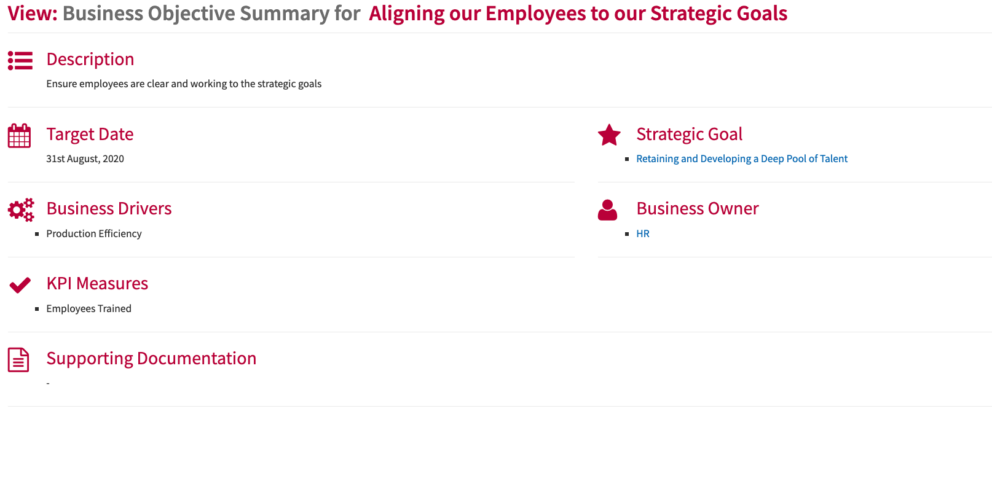 What
Shows the organisation's strategic business goals and the linked business drivers, business service quality, the targeted measures and the owner of the objective
Usage
This view allows you to show the details and relationship of a given business objective.
Meta Model
Data Capture
In Essential Cloud and Docker, navigate to the Business Goal class, add or create a new business goal. In the Goal Supported By Objectives of the business goal add or create a business objective. Capture Assigned To, Motivated By Drivers, Performance Indicators and Owners for the business objective.
In the Business Objective Assigned To slot ,ensure to link to an Actor via the Organisation / Individual slot and a Business Service Quality via the Objective Target slot.
In the Business Objective Performance Indicators slot, ensure to link to a Business Service Quality Value (BSQV), which is in turn is linked to a Business Service Quality, (BSQ) You may want to define your BSQ and BSQVs before linking them.
View Set-up
If the report is not enabled then go to EA Support > Essential Viewer > Report and find Core: Business Objective Summary and tick enabled to ensure you that the Business Objective Summary is displayed in the Essential Viewer. .
Define your BSQs and BSQV's first
Updated 31 October 2023