Strategy Planner
2 min
Provides an interactive view to analyse strategic objectives, value stream metrics and business capabilities to define strategic roadmaps.
What
It is a visual report of an organisation's strategic directions.
Usage
Use it to capture strategic decisions in the form of roadmaps and plans.
How to get the Strategy Planner working
Data Capture
NB For the business capabilities to appear in the lists under the Define Roadmap Scope step, the slot Parent Business Capabilities of the relevant 1st Level capability needs to be set to the root organisation capability.
In the Define Strategic Plans step, for the relevant objective to appear in the supported objectives section, add/create the business objective in the Business Objectives Supported By This Business Capability slot of the relevant 2nd level business capability.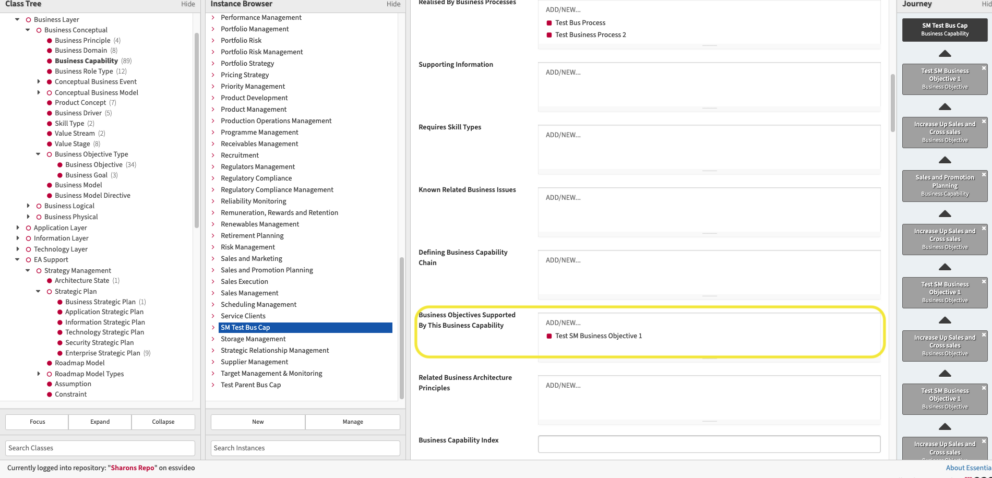 You can use the Launchpad Plus to capture the required data. Visit the Launchpad Plus for more information.
View Set-Up
If the report is not enabled then go to EA Support > Essential Viewer > Report and find Core: Strategy Planner and tick Enabled to ensure that the Strategy Planner is displayed in the Essential Viewer.
Updated 31 October 2023