Programme Plans
2 min
Provides a high-level view of the timing of Projects that comprise a given Programme.
What
It comprises a coordinated set of projects that implement enterprise changes to achieve strategic goals and objectives.
Usage
It allows the organisation to view the various change initiatives the organisation is implementing along a timeline.
How to get the Programme Plans View to work.
Meta Model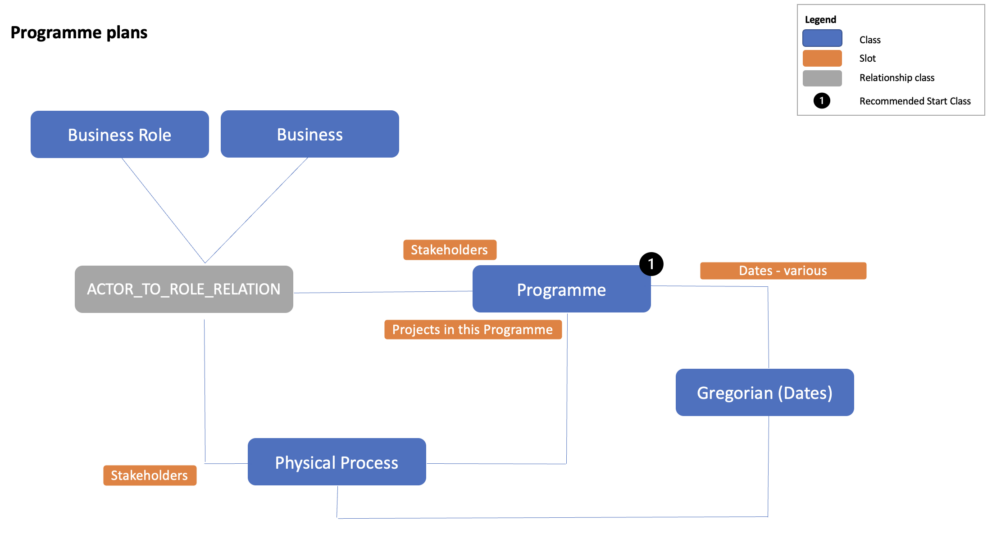 Data Capture
In the Cloud or Docker, navigate to the Programme class under EA Support>Change Management>Change Activity to create a programme. Name it, and add stakeholders in the Stakeholders slot. Add a Planned End Date and Actual Start Date in the corresponding slots.
In Projects In This Programme slot, add the implementations projects which are fulfilling the programme.
Optionally, add Impacting Change Activities, Milestones, Critically, Allocated Resources, Programme Budget and Impacting Decisions in the respective slots
View Set-up
If the report is not enabled then go to EA Support > Essential Viewer > Report and find Core: Programme Plan and tick enabled to ensure that the Programme Plan is displayed in the Essential Viewer.
Updated 31 October 2023