Essential Viewer
2 min
The Essential Viewer allows you to view the knowledge captured in the Essential Meta model in a topic-organised way to address areas of concern within an organisation as well as support decision making. Its interactive views make complex data simple to understand, enabling an EA to support CxOs and business users in deciding to ensure success and manage risk for an organisation.
It comes with a large number of Views, Catalogues, Reports, Models to view the information about your organisation, and, for Cloud/Docker users, the to easily maintain the data directly from the viewer.
The Essential Viewer is organised in Portals, you can create portals for different areas of your organisation. Initially it is configured according to the Essential Packs which you have acquired; the Enterprise Architecture Portal and View Library come as standard whilst the Application Portfolio Management and Data Management are the Viewers for the advanced packs.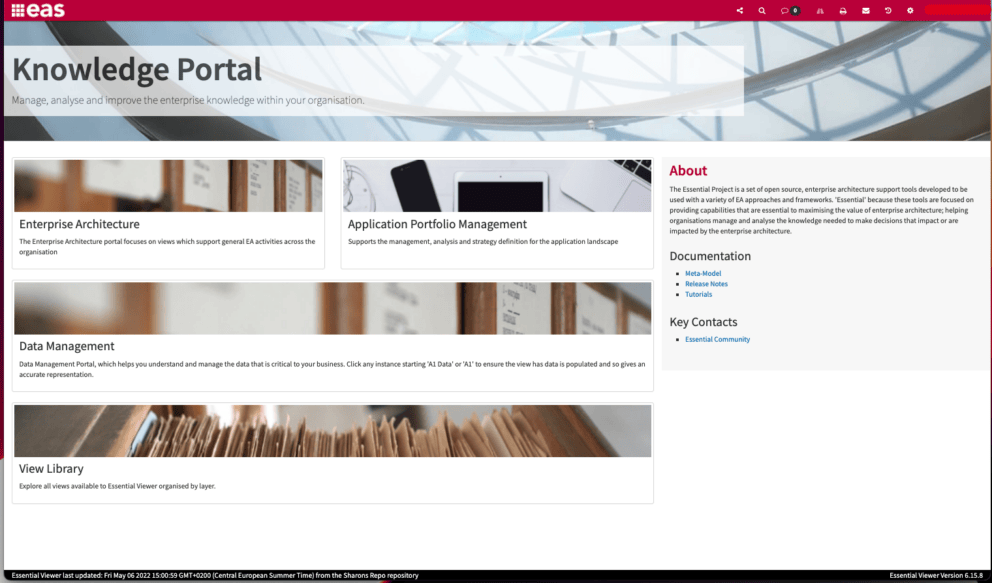 A quick walkthrough showing how to use the Essential Demo Viewer. The demo is available here.
Updated 31 October 2023