Business Capabilities to Technology (Tree/Force)
3 min
This view shows the relationship between Business Capabilities and Technology via Applications using a force and tree graph model
What
It is a relationship diagram (force) between business capabilities, processes, application, their services and deployment. The tree version of this view displays the relationship from business capabilities to deployment but in hierarchy tree.
Usage
You can use the view to have an understanding the organisations business capabilities, the applications which they use and where the applications are deployed
How to create the Business Capability to Technology (via Applications) view. Both the force and tree view work for this model.
Data Required
Show lineage from capabilities to deployments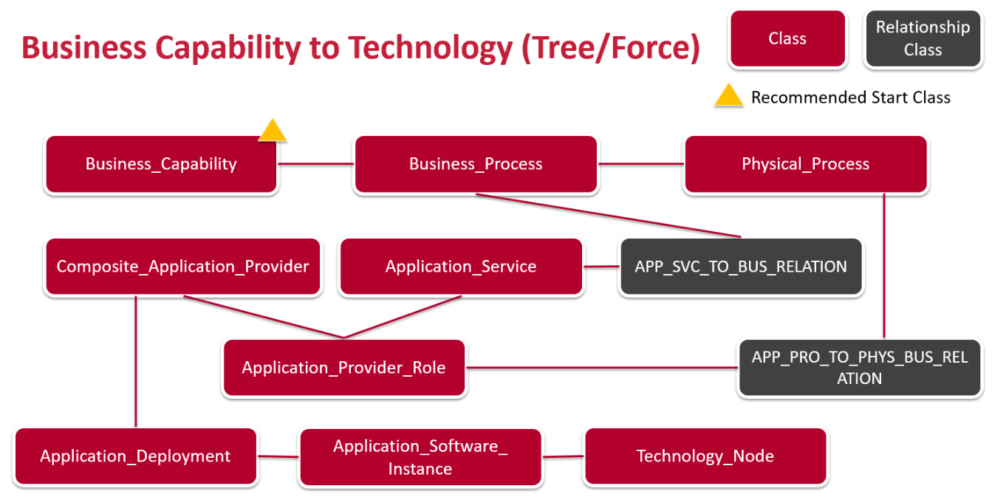 Data Capture
You will need to define the following: Business Capabilities (Adding Business Capabilities), Business Processes (Adding Business Processes), Applications, Application Services (Associating Applications, Services and Users)and Application Deployments (Associating Servers to Applications) and then connect them via the slots listed below:-
Link a Business Capability to a Business Process Class instance via Realised By Business Processes slot
Link an Application to Application Services via Provides Application Services slot
Create a physical process by linking an organisation to a business process via the Performed By Organisations slot from within a Business Process Instance Class.
Via the physical process link it to the application ( Step 2) supporting in the Supporting Applications slot
View Set-up
If the report is not enabled then go to EA Support > Essential Viewer > Report and find Core: Business Capability to Technology as Force and Core: Business Capability to Technology as Tree tick enabled on homepage for both of the views.
Updated 31 October 2023