Strategic Plan Summary
3 min
The Strategic Plan Summary shows all the elements in the organisation that this Strategic Plan is impacting,
dependencies between plans and the implementing Projects.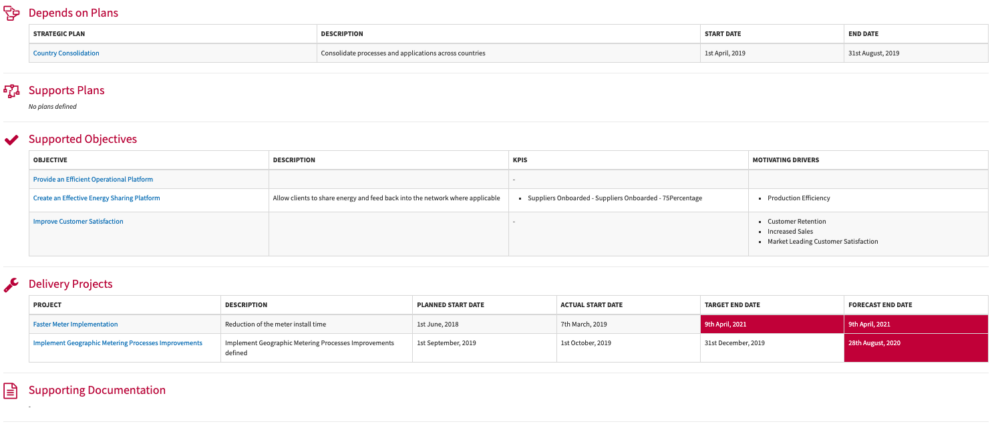 What
A visualisation of the key details of a Strategic Plan including timeline supported objectives, impacted architecture elements, dependent/supporting plans and implementing Projects
Usage
You can use a given strategic plan to view detailed information on related changes to architecture elements that address strategic requirements or objectives
Capturing Strategic Roadmaps and Plans, adding projects that implement those plans.
Meta Model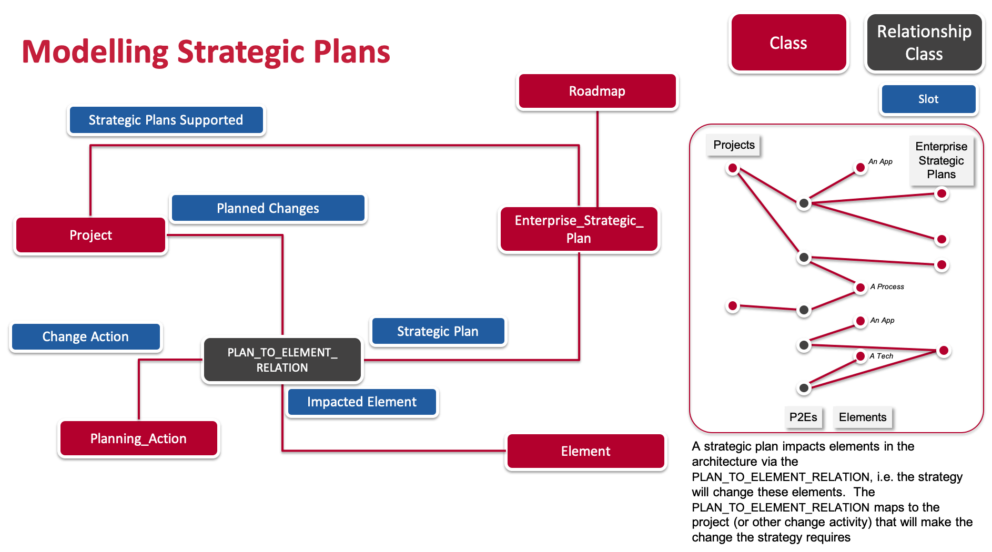 Data Capture
In the Cloud or Docker, navigate to the Strategic Plan class under EA Support>Strategy Management>Strategy Plan to create a strategic plan. Select the type of strategic plan (Enterprise, Business, Information, Application or Technology) you need to create. Usually, the strategic plans are Enterprise level one. Give it a name, add the Valid from and Valid To dates in the Strategic Plan Valid From Date Iso 8601 and Strategic Plan Valid To Date Iso 8601 slot respectively.
In the Strategic Plan For Elements slot (Plan_To_Element Relation), link the architecture element to the plan impacts by defining the impacted element and the change action in the Impacted Element and Change Action slot respectively.
To link projects to the strategic plan, via the Strategic Plan For Elements slot (Plan_To_Element_Relation) of a strategic plan, add a change activity in the Plan To Element Change Activity slot by adding or creating a new project. You can link multiple projects to a strategic plan.
View Set-up
If the report is not enabled then go to EA Support > Essential Viewer > Report and find Core: Strategic Plan Summary and tick enabled to ensure that the Strategic Plan is displayed in the Essential Viewer.
Updated 31 October 2023