Essential Meta Model (Overview)
7 min
The Essential Meta-Model is in effect an ontology for the domain of enterprise architecture that has been developed from over ten years of applying enterprise architecture practices with a variety of EA frameworks and tools.
Importantly, it does not represent an attempt to supersede or conflict with well-established EA frameworks and their associated meta-models. Rather, the intention is to provide a comprehensive and extensible set of concepts and relationships, with clear semantics that can be easily mapped to the concepts, activities and tools of the industry-standard frameworks. We have mapped Essential to multiple frameworks, such as MODAF, FEAF, and TOGAF, often too abstract the complexity of those models into something that has terms recognisable to management and the business, not just enterprise architects.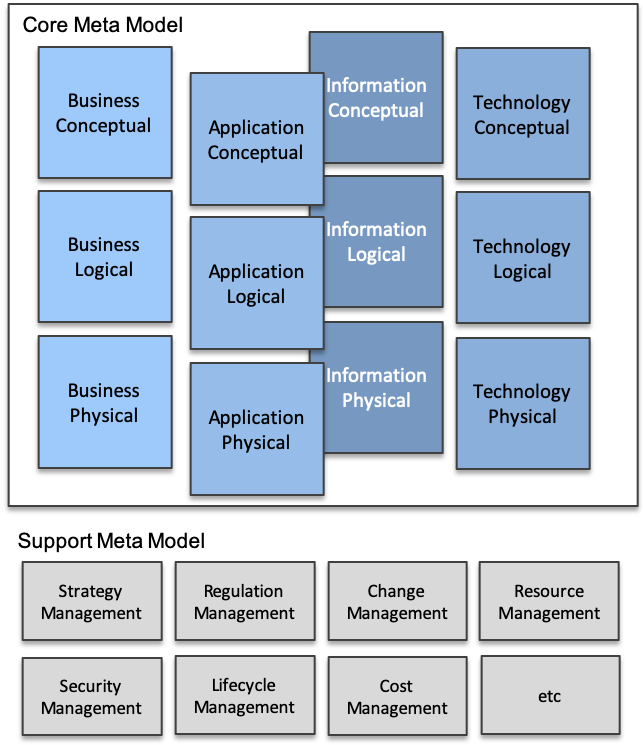 Essential Meta Model Scope
The Core Meta-Model concepts and relationships are based on what is fast-becoming a standard twelve-box grid; with layers representing the areas of architecture to be understood and rows representing the levels of abstraction from which this understanding is to be viewed. More specifically, the architecture layers defined are:
Business – knowledge related to the objectives, capabilities, people and processes of an enterprise
Application – knowledge related to the functional behaviour provided by technology systems in support of business processes
Information – knowledge related to the structured and unstructured information that support business processes, is managed by applications and is transmitted/stored using technology
Technology – knowledge related to the software and hardware technology used to implement applications and transmit/store information.
Abstraction views
The abstraction views defined are:
Conceptual View – the capabilities and concepts that represent the fundamental elements needed to meet the objectives of an enterprise (Strategic Agenda)
Logical View – the approaches taken to realise the capabilities and concepts of the Conceptual View (Tactical Agenda)
Physical View – the implementation of the approaches described in the Logical View (Operational Agenda).
Support Meta-Model concepts
In addition, a number of Support Meta-Model concepts and relationships are provided that enable management and governance processes that make use of the knowledge captured in the Core Meta-Model. More specifically:
Strategy Management – managing an organisations future state and the intended road map for achieving it
Change Management – managing the dependencies that impact the processes, people and IT of the enterprise during change, e.g. in support of project portfolio management or programme management
Standards Management – defining and capturing architecture standards for the organisation
Governance – defining policies, decisions, exceptions and controls against the architecture with the ability to have assessments against architecture elements
Service Delivery – managing the dependencies that exist between processes, people and IT in support of the on-going operation of an enterprise.
Security – managing knowledge related to the requirements, design and implementation of an organisation's security policies and architecture across business and IT.
Obligation Management – Support for management of regulatory requirements and how they impact the organisation
Legal Management – Support for managing legal compliance for technology and business services, e.g. licensing
Performance Management – Ability to manage KPIs against the architecture elements
Cost Management – Support for managing the costs of elements in the architecture, e.g. technology or business contract costs
Compliance Management – Develop the initial set of classes for managing and analysing compliance policies and associating these with elements in the core meta model.
Skills Management – Supports the ability to capture and model Skills required by Business Roles and provided by Actors in the business layer.
Lifecycle Management – defining and managing classification schemes and lifecycle policies related to the architecture elements
Detailed definitions of the elements that comprise the Essential Meta-Model can be found in the documentation area. Look at each layer tab, you will find diagrams and breakdowns of each element in the layers
Updated 31 October 2023