Application Deployments
4 min
The Application Deployment Summary provides a summary of the deployment details for an application.
What
This view allows you to see where around the globe a given application has been deployed and who the stakeholders and users are and the technology platform hosting the application.
Usage
You can use the view to make informed decisions about your application and technology landscape.
Data Required
Meta Model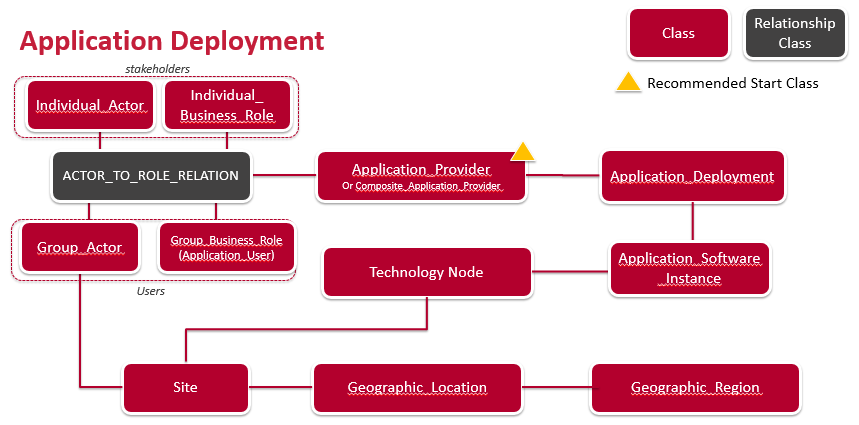 Data Capture
In the Cloud/Docker, navigate to the Composite Application Provider class, and add/create a new application. If creating, add the name, add/create the deployment in the Physical Deployments slot. Add the local name of the deployment(usually the name of the application). Add the role of the deployment in the Application Deployment Role slot. In the Deployed Application Instances slot, add/create the Application Software Instance deployed. Capture the relevant information in the following slot:-
Instance Given Name
Instance of Application Deployment
Deployed To Technology Node (to create a new deployment node, give it a name and node site, its geographic location)
Technology Instance Deployment Status
Navigate back to the Composite Application Provider in question, add the stakeholders in the Stakeholders slot, create the Actor to Role relation, add the group actor in the Actor Playing Role To Do The Process slot and add the business role in the Role Actor Is Playing slot. To add users, you will need to define Role Actor Is Playing slot as an *Application Organisation User*
NB assigning a site to the group actor is necessary by populating its

Primary Base Site(S)

slot. You can add more stakeholders if required. They can be either individual or group actors.
View Set -Up
If the report is not enabled then go to EA Support > Essential Viewer > Report and find Core: Application Deployment and tick Enabled to ensure that the Application Deployment is displayed in the Essential Viewer.
Updated 31 October 2023