Success with Essential
Simple Data Capture & Actionable Views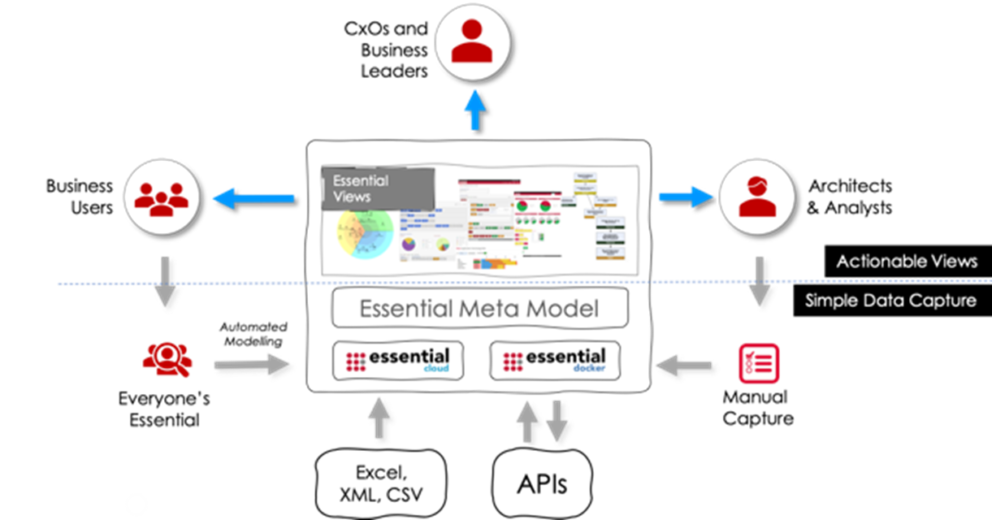 As any Enterprise Architect knows, the insight required to support decision-making requires data, which can come in many forms and be held in many places, both in systems and in people's heads.
Essential provides multiple data capture and maintenance mechanisms across these different paradigms to provide easy data capture options that allow the Essential and its Views to be used by, and provide benefit to, the entire organisation. Importantly, it allows the enterprise architects to focus on value-adding activities rather than spending large amounts of time on maintaining data.
Simple Data Capture
Everyone's Essential – provides business users with easy-to-use editors that allow data to be maintained by anyone, regardless of their knowledge of EA or modelling. Whether it be the PMO updating project dates, an Application Owner adding application functionality, a BA capturing process detail or someone in procurement updating technology lifecycles, simple forms are provided that allow this to be done quickly and easily with no training requirement.
About Everyone's Essential
Simple Click and Point
Drag and Drop
Zero Training
Business Friendly
APIs
If you already have accurate data mastered in a system then it is much more efficient to use the Essential APIs to re-use that data rather than re-capture it. Just make sure the data is good, decide the master and get going. Use the APIs to integrate with other systems, see our APIs here.
Excel, XML, CSV
Great for providing exceptionally fast initial data capture, as many organisations already have a lot of data held in spreadsheets that we can capture directly into Essential. The Essential Launchpad provides a pre-configured spreadsheet that organisations can use to capture a baseline across business, application, data and technology. If you have access to data in spreadsheets, you can be up and running and providing real benefit with Essential in a matter of days. Plus, you can use the Editors to maintain your data, see here.
Manual Capture
Allows the capture and maintenance of data that requires a more detailed level of enterprise architecture modelling that the EAs and EA Team possesses.
Actionable Views
Essential provides around 130 pre-configured, user-friendly visualisations to support differing EA requirements, such as APM, Strategy Management, Roadmapping, Digital Transformation and so on.
There are high level, strategic views that you can discuss with your senior management team, your business users and your key stakeholders, as well as detailed architecture views that can be used by your team. Additionally, Essential also provides extreme flexibility to enable you to easily create your own views and visualisations, should you want to provide views that are configured to the exact requirements of your organisation.
Using the Essential Import Utility
The Essential Import Utility can be used to import bulk data from spreadsheets to quickly populate key classes and views. Some pre-configured spreadsheets and Import Specifications are available as part of Essential Launchpad and in our Essential View Loaders.
Essential Cloud and Essential Open Source both use the Essential Import Utility, but the mechanism is slightly different and so there is an instruction page for each.